Book A No-Obligation Session with Our Caring Croydon Dentist.
Book your complimentary consultation session with us today! Understand your oral health in detail before selecting the treatment procedure. Our interest-free and easy-to-play plans ensure that you don't burn a hole in your pocket. Go home with a bright and confident smile!
Outstanding Dental Health Services in Croydon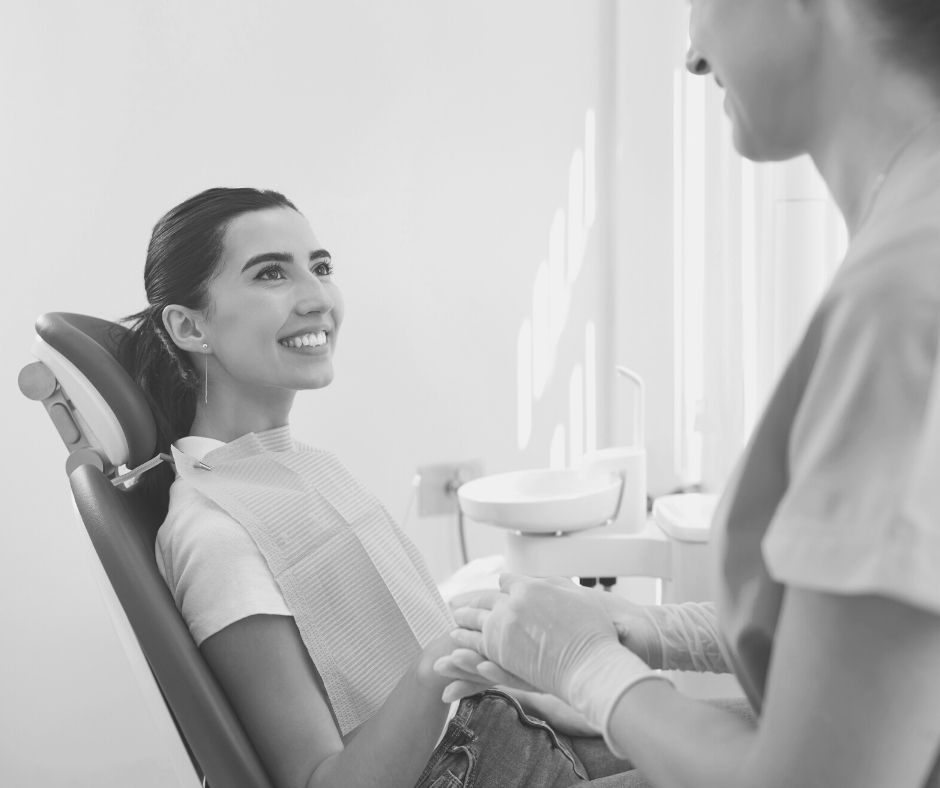 Outstanding Dental Health Services in Croydon
Smile Crew offers a variety of dental treatments and services to our patients with various dental needs. We combine technology with premium patient care to treat patients of all ages in a relaxing and soothing environment. All our dentists and staff are trained to carefully identify the dental concern before proceeding with the treatment. Our comprehensive approach allows our patients to get the exact dental treatment and speedily recover from their dental issues.
Smile Crew is committed to providing excellent dental care to all families located in and around the area of Croydon. We give undivided attention to our patients to understand their oral health condition, their requirements, and their goals. You will leave our clinic feeling empowered and poised with a beautiful smile.
Dental Issues and Conditions
At Smile Crew, we believe that prevention is always better than cure. Regular visits to us and small oral health treatments can help in preventing bigger oral health issues. Some common dental issues that patients often face include
Chipped and/or Cracked Teeth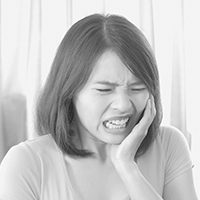 Toothache may be caused because of different reasons, including tooth decay, cracked or chipped tooth, gum disease, orthodontic treatments, worn down teeth, etc. A toothache may also be a sign of some hidden oral problem. A dentist can help in identifying and treating the exact problem.
Chipped and/or Cracked Teeth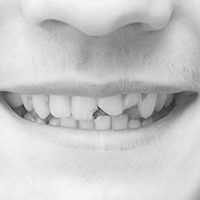 Chipped and/or Cracked Teeth
Sudden accidents that impact your teeth, poor oral hygiene that weakens your teeth enamel, biting down into hard objects like ice, cavities, grinding of teeth, etc. are some common reasons why the tooth may chip or crack. If left untreated, the chipped or cracked tooth may keep crumbling and cause infection.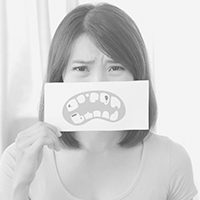 Poor oral health care at home is the leading cause of tooth decay and plaque formation over teeth. Bacteria from our food tend to form a layer over our teeth, forming plaque. The bacteria use the sugar present in the food and convert it to acid. This acid then wears away the enamel.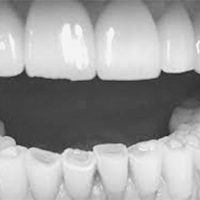 Although the enamel over our teeth is sturdy and durable, it does wear down with age. Even our food habits cause erosion of our teeth. Consuming carbonated drinks, soda, and acidic foods can cause the teeth to wear down.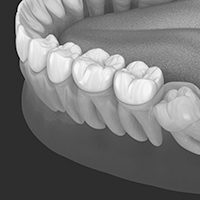 Wisdom teeth are the third and final set of molars that usually develop between ages 17 and 25. It is not uncommon for molars to cause issues in their development. Their improper growth or alignment causes pain and discomfort and needs immediate medical attention.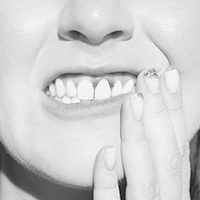 Gum disease is also referred to as periodontitis. This condition of the gums tends to affect the bone, which provides support to your teeth. Pain, sensitivity, swelling, foul odour, and bleeding gums are common symptoms experienced by someone suffering from periodontitis. The build-up of plaque and tartar around the teeth is the main cause of this condition. The condition is treatable if detected at an early stage.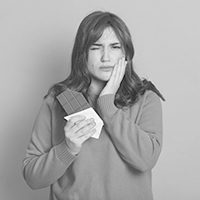 Dental emergencies are unavoidable and may happen suddenly at odd hours. A dental emergency could be of different types, from severe toothache to bleeding. It is crucial that the patient be rushed to our clinic immediately so the problem can be taken care of instantly. Smile Crew is not just well equipped with different dental technologies, but we also have a team of special emergency dentists who are trained to handle dental emergencies.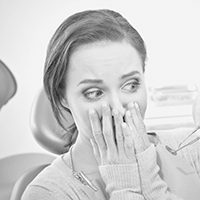 The dental tools and machines, the sound of drilling, the thought of pain are all some common reasons for dental anxiety. It is not unusual for individuals to face dental anxiety. Smile Crew understands that you may have anxiety or dental fear, but we also have modern solutions for all who are suffering from dental anxiety. Not only do we have compassionate and caring doctors who are trained to treat people with dental anxiety, but we also have several solutions, such as sleep dentistry, to help you deal with your anxiety while you undergo the dental procedure comfortably.
Confident Smiles through Excellent Dentistry!
Smile Crew has a team of efficient staff and caring dentists who are always prepared to address your dental condition. We ensure that your dental issues are fixed at our clinic, and your experience here is a comfortable one. Some common dental solutions offered at our clinic include
Dental Check-up and Cleaning
Professional Deep Cleaning
Children Benefits Schedule
Dental Check-up and Cleaning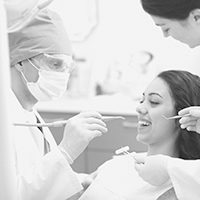 Dental Check-up and Cleaning
Even if you follow good oral habits at home, you must visit our clinic for regular dental check-ups to ensure there are no underlying oral issues. Flossing and cleaning may yet leave out certain unreachable places in your mouth. Professional cleaning at our clinic can help prevent serious dental issues.
Professional Deep Cleaning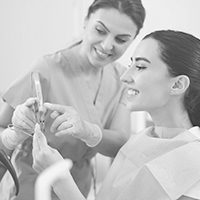 Professional Deep Cleaning
Professional deep cleaning of the teeth is a common procedure that can help fortify the integrity of your teeth. Professional deep cleaning is recommended for patients who have developed gum disease. Our dentists use a special instrument to remove plaque and tartar developed over the teeth and clean places that are hard to reach. Regular brushing, cleaning, and flossing may also cause plaque build-up. Hence our dentists recommend professional deep cleaning of teeth at regular intervals.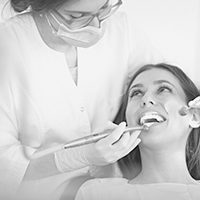 or RCT is a procedure that removes the inflamed tissues that lie deep within the teeth. It is a complex treatment as the dentists work with fine nerve canals within the teeth. Our knowledgeable dentists use advanced and modern tools to perform root canal treatment.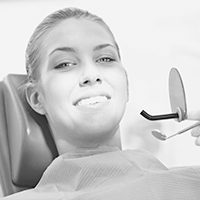 Dental fillings can help fix several issues, including closing small gaps, restoration of tooth cavities, and fixing broken teeth. They are an easy way to fix teeth having cavities. At Smile Crew, we offer different types of dental fillings for your condition. Our dentist will help you decide the best type of filling for your condition in the complimentary consultation session.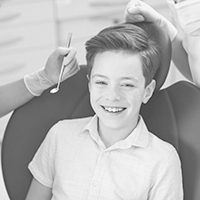 Good oral habits should be inculcated at an early age at home. Regular visits to the dentist are significant to have a strong and healthy set of teeth. The fright of visiting a dentist is common in children. But we ensure that we have a team of highly skilled dentists and staff who are adept in paediatric dentistry. They put in a lot of effort to make your child's visit to the dentist a pleasant one. By establishing a positive experience in your children, we help them develop good oral habits.
Child Dental Benefits Schedule (CDBS)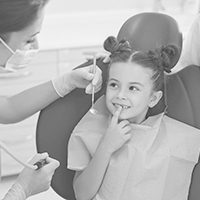 Child Dental Benefits Schedule (CDBS)
In hopes for our future generation to have healthy teeth, Smile Crew works along with the government to provide children of ages 0 to 17 with dental services. You can visit our clinic or give us a call to understand more about the CDBS benefit plan.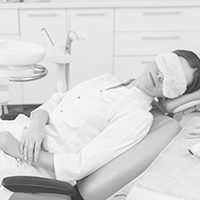 If you are suffering from dental anxiety, let it not be the reason to stop you from getting a beautiful smile or treating your deteriorating oral condition. IV sedation is a wonderful way to undergo the dental procedure recommended by our dentist for your condition. We have practised specialists that administer IV sedation to the patients.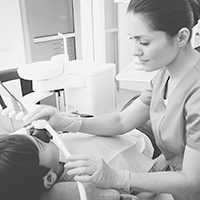 Happy Gas is another form of sedation that is administered in both children and adults. Nitrous Oxide, often referred to as happy gas or laughing gas, is mixed with oxygen and administered to the patients in a controlled way. The gas helps in comforting the patients and keeps them in a sleep-like condition. It is a wonderful way to help patients suffering from dental fear and anxiety complete their dental treatment.
6 Promises that makes us unique from other dentists in Croydon
1. Best Dentists at Your Service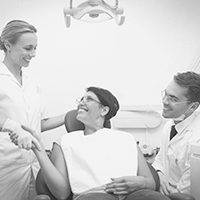 1. Best Dentists at Your Service
Smile Crew is supported by the finest dentists in various fields. We cater to a wide range of dental problems for all age groups, including specially challenged, senior citizens, patients with anxiety, bedridden, chronically ill patients, and others. From consultation to teeth cleaning and from root canal treatment to crown placement, we are a one-stop solution for all the dental needs of your family.
2. Customized Treatment Plans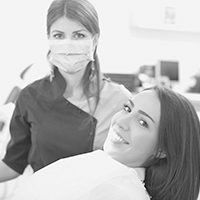 2. Customized Treatment Plans
At Smile Crew, we understand that every smile deserves a tailored and comprehensive treatment plan. We offer customized dental health treatments to all our patients for curative and preventive dental healthcare. We meet all your oral health needs while keeping in mind your comfort. We ensure that you feel comfortable, confident, and safe while undergoing your dental treatment at the hands of our caring dentists.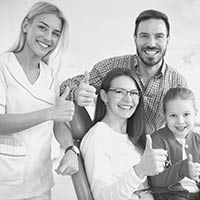 Technology allows us to digitally show you how your smile would look after you have undergone the treatment process. You can try as many blueprints or make as many changes as you like, till you are satisfied. You can stop only when you have found the one that best suits you.
4. Easy Interest-Free Payment Plans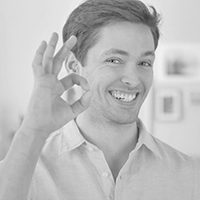 4. Easy Interest-Free Payment Plans
There are several dental procedures that are costly, but the joy of achieving a dream smile is extremely satisfactory! Money shouldn't be the reason to look and feel confident. So, for you to be able to achieve your dream smile, we have several flexible and easy-to-play plans that will assist in getting your treatment done without having to worry about the cost of the treatment.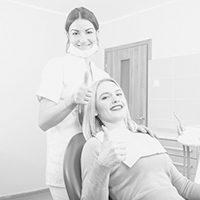 We have always believed in giving back to our society and thus ensuring that the fees and rates charged are not a burden to your pocket. We have kept them to a minimum so you and your family can experience good oral health all the time.
6. State-of-Art Equipment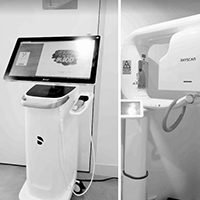 6. State-of-Art Equipment
Our clinic is equipped with the latest machines and technologies that allow our dentists to easily identify your dental issues. With the smart tools and equipment we have, we are able to treat your dental issues precisely. Our usage of advanced technology also ensures that you stay comfortable throughout your dental treatments.
Why Choose Croydon Dentist?
Dentistry is dynamic! There are several interesting trends that come and go, but we believe in keeping one thing constant which is – pre-eminence in care and the highest level of expertise. We established our clinic with the goal of providing patients with an experience that is both personalized and inspirational. To uphold this goal, we incessantly draw on the latest technologies and collaborate with dentists and specialists who demonstrate commitment and talent to serve all the customers with compassion and care. Our reward is the bond we establish with our customers that pass through our doors and lay their trust in us. We have always committed ourselves to make their experience at Smile Crew a memorable and transformational one.
Where to Get the Best Dental Services in Croydon?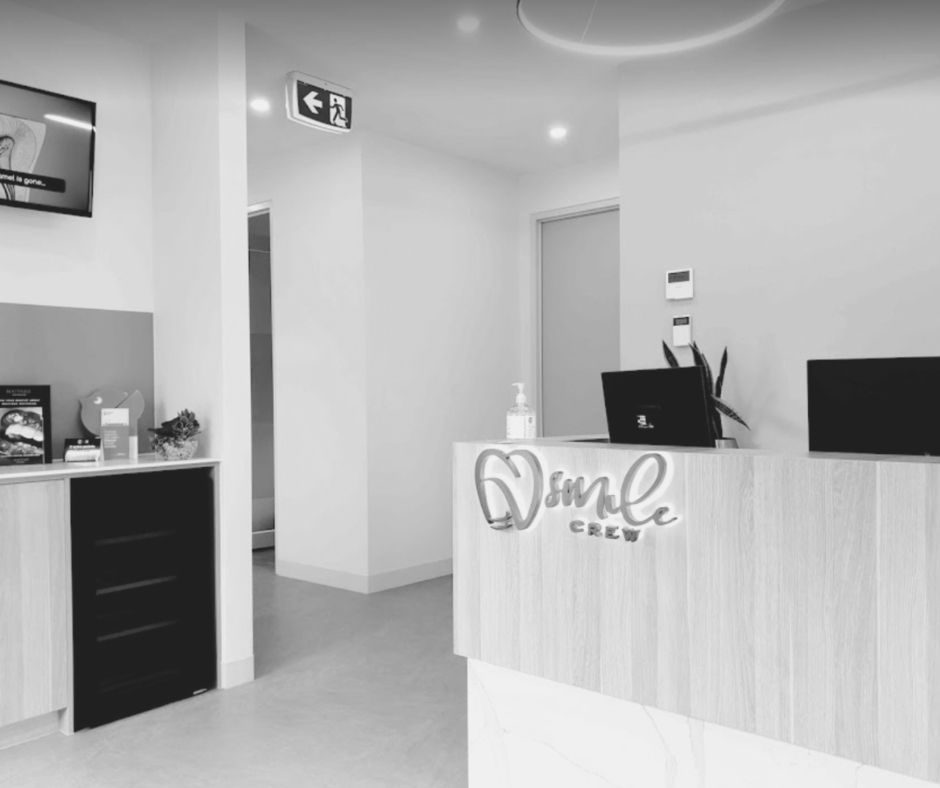 Smile Crew has been providing amazing cosmetic dentistry results and comprehensive dental, since our establishment. We have been dedicated to offering dynamic dentistry to all our customers. Our staff and practised dentists are committed to understanding your perspective, knowing that you have entrusted them with your dental health and smile. Our dentists actively believe in devotedly treating your dental issues safely and comfortably. To book a free consultation session with us, get in touch with us or visit us on the below mentioned contact details:
We responsibly treat people with compassion, respect, and excellence!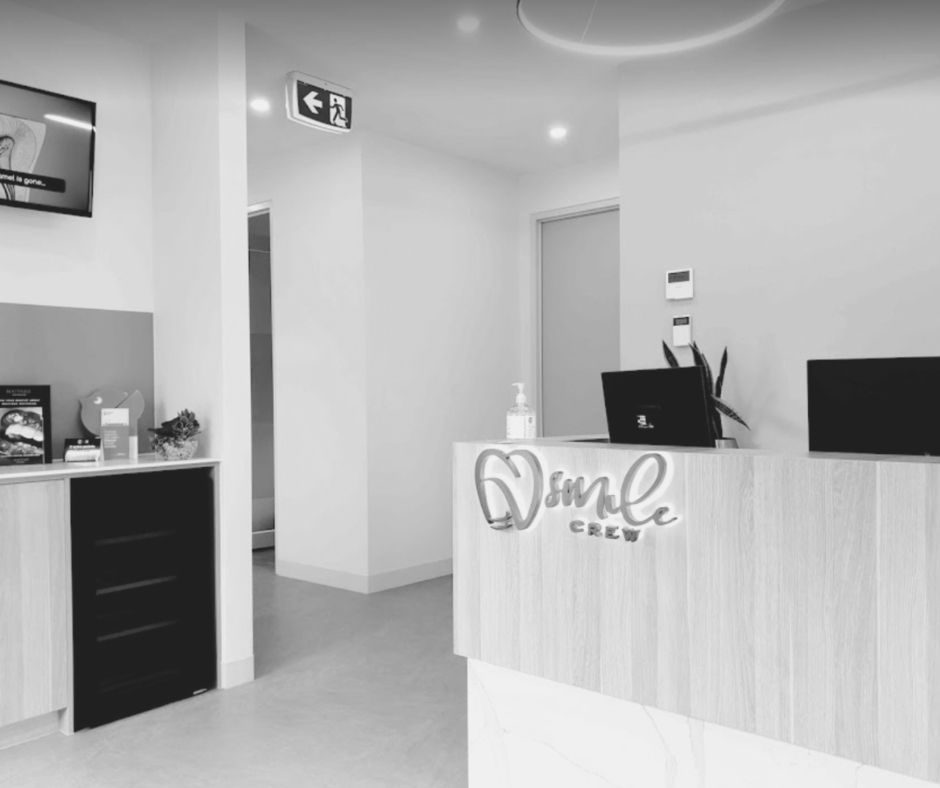 Searching for an affordable Croydon dentist? We are here to help.
Smile Crew Dentist Croydon
111 Maroondah Hwy, Croydon VIC 3136, Australia
Frequently Asked Questions
What is General Dentistry?
General dentistry is primary and preventive dental care. Different types of dental emergencies also come under general dentistry.
Why Should We Visit the Dentist Regularly?
Visiting the dentist regularly helps in detecting any oral health issues at an earlier stage. Treating these issues on time helps in the prevention of more serious issues.
Who Can Get General Dentistry Services at Your Clinic?
We welcome people of all ages to our clinic, including children, the elderly, and the specially-abled. Along with general dentistry, we offer our patients all types of oral health treatments and services.
What is the Right Age for a Child to Visit the Dentist for the First Time?
The right age for a child's first visit to their dentist is at the age of 1 or within 6 months after they have developed their first tooth.